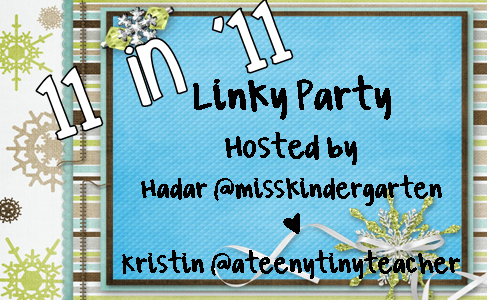 Kristin at A Teeny Tiny Teacher is hosting a linky party. I have never done one before, so what the heck! I can wait a little longer to get dressed for the day! It's not even noon...yet!
11. Favorite movie you watched
Well, like the rest of the world, my favorite movie was The Help! I read the book a year ago, and then counted down the days til it came to theaters. My hubby took me on a date to see it! He even thought it was a good movie. I now have it on DVD and have watched it twice! Love it!
10. Favorite TV series
I am too much of a couch potato to pick just one! I really need to do more with my life I guess, but after working all day, it's nice to come home and relax at night and stare blankly at the TV! But, to pick just one, I would have to say that's not possible. I will give you my top 3!
9. Favorite restaurant
We just discovered Jason's Deli. It's about 25 minutes away, but well worth it! It's kid friendly, relatively healthy and not too pricey. Plus, they have their food on a WW website, so I know how many points it is and I can judge if it's really worth it. And free ice cream? Hello!
8. Favorite new thing you tried
I hate to admit it, but I don't try many new things. I would have to say Weight Watchers, though. I finally hit the point where I needed to do something and was ready to do it. It's a slow process, but we are getting there!
7. Favorite gift you received
I don't have a favorite gift I received, but I did buy myself an iPad 2. My grandma had passed away and left the grandkids some money, so I bought it for myself. I was going to buy one anyway when I finished my classes, so I just bought it sooner!
6. Favorite thing you pinned
There are lots of things I pinned, but no favorite, really. I just like to look for ideas on things I may never do and then laugh really hard at the humor part!
5. Favorite blog post
I don't have a favorite post. My
Walmart post
got pretty heated! 
4. Favorite accomplishment
I finally decided this was the year to finish my classes to move all the way over on the pay scale. I already had 2 master's degree's, but going to school out of state messed my units up a bit. I needed 15 units to be done forever, so I did all 15 in 4 months! It was a lot of razy work, but it's done!
3. Favorite picture
I don't know if I have a picture that is my favorite. My daughter's school picture is my fave right now, but I don't have it for all to see! Sorry! Some things are better left secret!
2. Favorite memory
This is easy! My hubby passed the bar in May! We were so nervous the day the results would be posted (6pm on a Friday night!). He tried to keep himself busy and even went to the neighbors house to keep occupied. It seems like so long ago now that he passed! We were jumping up and down, screaming, the whole shebang! Then his swearing in was pretty memorable, too! Nothing like being in a historic courthouse and not being in trouble with the law!
1. Goal for 2012
I have several goals for 2012. I will just list a couple!
a. Be more spontaneous at work. Sometimes we get off on a tangent and we are having such a good discussion, but then we always end up doing what was planned. Plans can be changed and there will always be another day to do the work!
b. Go back to the days of fun. We have become so rigid in teaching that the fun is gone. The kids need the fun. I am going to try to give that to my kids a little more, but still teach them what they need to know!
c. Give myself some more me time. I hate that it sounds so selfish, but I don't take time for me. I go to work, come home take care of my family and dinner and plan, but there is little time for me to enjoy being by myself. I need to do that more and take care of myself!
There is a nutshell of my 11 for 11! Enjoy!